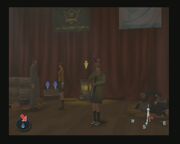 Del Ray High School (known as Tomisaka Commercial High in the Japanese version) was an educational facility built to accommodate all new citizens to Del Ray aged 13-18. What it was NOT built for, however, is being able to withstand the flooding brought upon by the raging torrents on Christmas Eve.
In-game Condition
Edit
By the time Paige Meyer comes to, most of the hallways in the school are either halfway sinking, or are on the verge of collapse.
Chronology
Edit
Paige Meyer,A student in Del ray high school being constant bullied by her classmates,She been lock in a locker by Emily when the teacher tell the students to go to the gym for the evacuation,After Paige go out the locker,The school was on the verge of collapse with the hallways almost collapse with water started to enter the school,Paige could find a sport bag in a storage in the second building after being chased by a crazy teacher,Mr.Savage.Paige then found one of her teacher being stuck under a piano,Players need to found a mop and a rope to lift the piano,The teacher reveal to be one of the survives from Capital city earthquake.